Don't see your favorite?
Make a suggestion.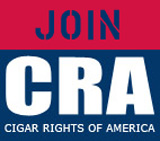 Fifty Best Cigars - Volume 2
Trinidad Robusto Extra

Named after the beautiful Cuban city, Trinidad cigars have been recognized by connoisseurs all over the world. Difficult to obtain because, since 1969 they were produced in a 38 ring gauge exclusively for Fidel Castro, as diplomatic gifts. In 1998, they were finally released to the global market.

Trinidad's most superb cigar, the Robusto Extra boasts a silky smooth presentation, fine and lean like a trim primed athlete. Rather than power and intensity, look for subtlety, distinction and style.

A superior and stylish cigar of medium strength-- well rounded, rich and tasty. Cinnamon spice flavors tantalize the palate, showing hints of chocolate and roasted coffee. Complex, smooth and creamy with an outstanding cedar aroma, the Robusto Extra is rare refinement indeed.

Designated by its unique pigtailed cap, this cigar will prove to be a prized addition to your humidor. A true masterpiece of heroic proportions.
Vegas Robaina was established about 50 years ago by Don Alejandro Robaino, famous for growing the finest wrapper tobacco in the area. The brand was officially launched by Habanos S.A. in 1997. The Vegas Robaina are a testament to him and other farmers in the St. Luis region of the Vuelta Abajo, the best area in Cuba for growing tobacco.

Using the same wrapper as Cohiba, these extremely well balanced cigars are medium to strong-bodied. Delightfully intense with huge complexity. Smooth and velvety texture, slightly sweet spicy notes vie with cream, chocolate and cedar flavors, with hints of leather on the palate.

The Unicos are known to be very aromatic, imparting a lovely bouquet. A beautiful, high-end cigar in every way-- absolutely top notch.

Some people argue that the Unicos are better than the Montecristo 2. When you factor in the uncompromising quality standards applied to every box, many might agree.