Don't see your favorite?
Make a suggestion.

Fifty Best Cognac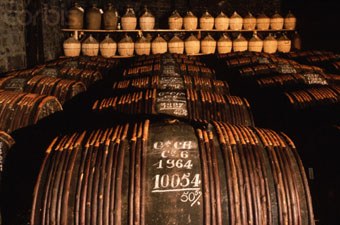 Tips for tasting Cognac
Use a tulip glass. Thanks to its wide bowl and narrow neck, the tulip glass concentrates Cognac's nose and allows you to best appreciate the spirit's subtlety and layers of aromatic complexity. The glass is also easy to hold and is great for admiring color.

Don't warm a Cognac or any fine wine or spirit too much or you will accentuate the alcohol, not the aromas.

Swirl Cognac gently. Cognac is packed with aromas and needs less oxygen than wine for the aromas to reach your senses.

Put your nose close to the glass but not in it. (For the same reasons as above.)

Take a sip. Keep the spirit in your mouth for 2 or 3 seconds before you swallow.

Wait 45 seconds. You'll experience the fullest range of flavors and aromas from about 45 to 90 seconds after sipping.
Château De Beaulon
Très Vieille Réserve du Château
1983
Fins Bois
40% abv

Old gold with copper tints in colour. Intense, rich aromas, evolving towards fruit notes followed by soft spices and dried fruit. Supple, fresh, and elegant palate with a multitude of floral and candied fruit flavours. Gourmand and spicy touches on the finish. A rare and very exceptional Cognac.

Gold Medal Brussels 2007 Trophy Excellence, Citadelles Bordeaux 2007.
Courvoisier
21 Year Old
Grand Champagne
40% abv

At first on the nose are notes of dried hazelnut, dried apricots and figs, followed slowly by hints of cocoa, honey and smooth spices like white pepper and coriander. On the palate, the aromatic notes deepen into candied orange and gingerbread, leading to a smooth and voluptuous finish with exquisite depth that seems to go on forever, with notes of leather and fine cigar.

SF World Spirits Competition 2011 Gold Medal.
Louis Royer
32 years old single cask
Grand Champagne
43% abv

Everything about this Cognac is original. Its colour, a unique copper bronze. Its generosity. Its aromas and flavours, which convey the time spent waiting for you. Its spicy notes drawn from the old cellars, together with hints of walnut and hazelnut, the result of slow maturing and fully conserved natural and powerful cocoa notes. Persistent smoothness and balsamic notes are enveloped by delicate iris perfumes. Finally, a mature soul, both solitary and rich, this "rancio" that every lover of Cognac searches for.
Pierre Ferrand
Grand Champagne 1972
Grand Champagne
44% abv

Deep amber color. Aromas of buttery toffee, floral bath soap, raisins, cola nut, and delicate maple syrup follow through on a rich, supple entry to a dry-yet-fruity full body with complex waves of dried fruits, exotic spices, leather, anise, cocoa, dried lavender, and sandalwood. Finishes with a seemingly endless, evolving peppery wood spice finish. Magnificent!

International Review of Spirits Award Platinum Medal (Rated 98 points, Superlative), Wine Enthusiast Rated 96.
Château de Beaulon
XO Vintage 1971
30 yrs old
Triple "S" / Fois Bons
40% abv

Fine and delicate nose. Initial notes of very ripe fruit, plums, apricots, pineapples quickly developing into spicy tones, curry, saffron, nutmeg, sandalwood. Very generous, mellow and round palate with candied fruit and vanilla tones. Extremely long in the mouth, exploding in a sumptuous bouquet of floral notes.

Brussels 2004 Gold Medal, Citadelles Trophy, Bordeaux 2004 & 2007; Grand Gold Medals, Shanghai 2005.
Raymond Ragnaud
Folle Blanche 2002
Grand Champagne
40% abv

Sophisticated nose of white flowers, clover, fresh mountain herbs. The palate brings fresh notes of spicy grapes, plum, cherry plum, ginger final, daffodil, and cherry Napoleon. A very special, soft and delicate Cognac— not agressive at all.